How Do you Choose the Right Indoor Drone for Marine & Industrial Surveys?
You want to be able to deploy your drone in service quickly. You want to be able to survey ships and industrial facilities accurately. You want to capture data and produce reports for your customers, classification societies, and 3rd parties. And you want to have a very intuitive control system so you can be in complete control of your drone at all times.
But choosing the right professional indoor drone is not easy. You may have trouble finding a suitable drone for your task and price range. Choosing between different brands of drones is even more difficult. The number of features offered by each maker is vast and overwhelming. But if you are smart, you can find the one that suits your needs perfectly.
You could easily waste a significant amount of money on an indoor drone that is not what you need. It would be best if you found a drone that not only meets your budget but also fits your working environment.
To help you avoid all that, we would like to reveal a simple suggestion for choosing the right indoor drone for ship and industrial surveys.
Different types of indoor drones are available for various purposes and different budgets. This means that if you don't know what you need or want, it can be hard to find the best drone for your needs.
So, the first thing to think about is the drone's purpose. It is essential to re-evaluate your industry and list the factors that affect the performance of your services. This will determine what features you need.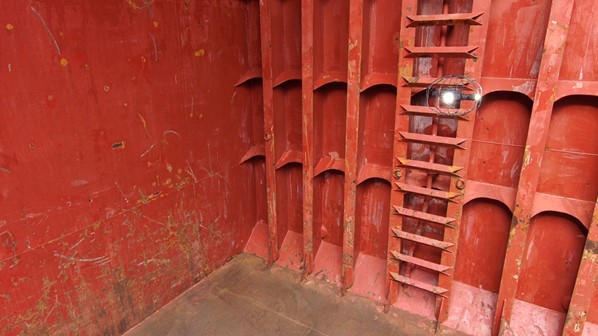 For example, suppose you plan to use the indoor drone for close-up confined inspections on ships. In that case, endurance is "key" because the ship structure is very complicated, and you need to access complex parts of the construction having complete control and excess battery life. If your drone has a short flight time, it will need more batteries to complete the assignment, which is a cost that you need to consider.
Indoor Drone technology is developing rapidly. New concepts of drones are being developed all the time. If you are unsure which type of drone is best for you, it is best to buy the one that gives you the best balance between flight time, features, weight, and price.
The best drone in the market for confined inspections
We are massive fans of professional indoor drones for marine and industrial surveys because drones can quickly, safely, and cheaply facilitate many assignments.
We have reviewed all major manufacturers in the last few years from the standpoint of an end-user involved in marine and industrial indoor inspections. The ONLY one that stands out most for us is the ASIO solution manufactured by the Swiss FLYBOTIX. The ASIO is simply a great all-around drone. It can take incredibly high-quality photos, videos, and thermal images. It has the longest flight time in the indoor drones market as it can fly for up to 24 minutes, twice the flight time than indoor drones of the same category.
The ASIO by FLYBOTIX has everything you could ever want in a professional indoor drone, and it is affordable.
Learn more at www.flybotix.com.
To book a demonstration please send us an e-mail at info@remotelia.com or contact us directly from our webpage.
REMOTELIA S.A. is FLYBOTIX's authorized distributor for Greece and Cyprus.